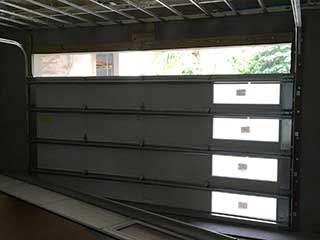 When people think of garage door maintenance, they typically focus on the opener and the springs. While it is essential for these parts to be looked after, this doesn't mean that the door panels should be ignored. They are prone to damage over time, especially from rainwater and moisture in the air. Read on for useful advice from our team on how to keep your panels in good condition.
Apply Weather Seals

There are several ways in which you can protect the panels. Our first suggestion is to use a bottom seal. These are easy to apply and reapply when they come to the end of their working life. At the same time, weather seals do an invaluable job when it comes to protecting the panels from water and road salts brought in by the car tires.

Caring For Wooden & Metal panels

If your panels are made from wood, regular re-finishing will be required. You should use a finish known to be resistant to moisture and which protects the wood from decay. Metal doors may require staining or oiling on a regular basis to stay protected from rusting caused by water and moisture. However, you should always clean any door thoroughly before re-coating and gently sand away any pre-existing peeling paint.

Repainting Is Your Friend

It is best if you ensure you repaint or restain your panels at least on an annual basis. This will guarantee effective and reliable protection at all times. However, this does not eliminate the need for damage inspection. Wood panels should be inspected and treated for signs of decay while metal ones should be inspected for rust.

Handle With Care

Finally, just like other parts of your system, you should attempt to handle your panels with care. For example, we recommend that you avoid using sharp objects for removing ice, but use a device to produce and melt the heat away instead.
If it turns out a replacement panel is needed, our team at Garage Door Duncanville can help you out - just get in touch!