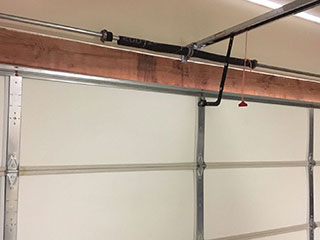 Compared to other parts of your garage door system, the springs may be small in size but they're some of the most critical parts of the entire mechanism. These units need to be in good working order for the door to be able to open and close smoothly and safely. Regular maintenance can help, but once these components start to show signs of wear, it's time to get them replaced.
Signs That Replacement Is Needed
The springs bear the vast majority of the weight of the panels. Whether you're opening the door by hand or using an electric opener, the process requires very little effort when these units are new. As they start to age and become worn, you'll notice your garage door starts to feel very heavy. If you're using an electric opener, you'll hear it start to strain under the load, and the springs may also start to squeak loudly. In some cases you might be present when one of them snaps. When this happens, you'll hear a loud noise, similar to a gunshot, and the panels will most likely slam shut. You will find the door is impossible to lift afterwards, either with your electric opener or manually. It will actually be dangerous to even try.
Can I Replace The Springs Myself?
If you're keen on DIY repairs, you might be wondering whether to attempt to replace broken garage door springs without the help of a professional. We strongly advise against this. No matter how adept you are at this sort of home handyman repairs, it's not recommended that you try to replace these components on your own. This is because the springs are responsible for holding up the heavy weight of the panels, and the tension they are under can cause them to break when it is mishandled. Trying to take the DIY approach can be potentially very dangerous. You could end up sustaining a serious injury.
What Are The Different Types?
There are two different types of garage door springs that are commonly used today. Units that belong to the first type use torque in order to generate the force needed to help the door move. These are called the torsion springs. They are installed horizontally directly above the door, and they are the newer variation of these components, so often they can be strong and flexible enough that only a single unit will be required. They need to be lubricated regularly to reduce their friction, and as long as you make sure to do that (or to have someone do it for you) your torsion springs could last for up to a decade, and potentially even longer. The second type is called extension springs. These are installed in pairs, on either side of the door, parallel to the horizontal tracks. They stretch when the panels lower, and then contract in order to help raise the door back up.
Here When You Need Us!
If your springs aren't working as well as they should, or if they suddenly break, our technicians can help. Just give our friendly team here at Garage Door Repair Duncanville a call.
You can also count on us for:

Roll up Garage Door Maintenance

LiftMaster Garage Door Opener Repairs

Garage Door Extension Spring Installation

Extension & Torsion Spring Replacement