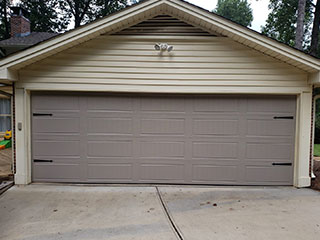 It's natural to think you'll only require garage door repair services once you've suffered a considerable system malfunction or shutdown. But we've been in the business of garage door installation and repair for over ten years, and in that time some of the most valuable services we offer involve far smaller tweaks and tests. That's because these check-ups, if conducted regularly enough, can go a long way to preventing larger and more costly problems. We believe our scheduled services protect the many moving parts of your door from overstrain – and enable us to catch and fix system stresses before they boil over.
How Important Are The Springs?
Your springs are the probably the hardest working components of your garage door system. They're responsible for supporting and counterbalancing the weight of the panels as they move up and down. As they are required to do so multiple times a day, day in and day out, springs are prone to wear and tear – and if neglected, they can snap unexpectedly. Our technicians can check these vital components as part of a regular maintenance routine – we'll adjust their tension and add lubrication as needed.
Watch Out For Faulty Sensors!
An automatic garage door opener must come fitted with several standard safety mechanisms. Included in this are your safety sensors, designed to detect objects – including children and pets – that may be obstructing the door's pathway, and an auto-reverse feature that kicks in if someone or something is in danger of being struck. These are just as subject to wear and tear as any other part of your door system, yet when they malfunction, this can pose a risk. Regular tests to check the alignment of your sensors and the responsiveness of the auto-reverse feature will keep your door's built-in safety features in good working order and your household safe from harm.
Total System Exam
Our technicians believe in the power of prevention. That's why, as a standard part of their regular check-up schedule, they'll examine each and every component of your garage door for underlying faults. Among other things, they'll check the tracks for dents and test the rollers for signs of considerable wear and tear.
Get In Touch Today!
At Garage Door Repair Duncanville we aim to make your life easier. Leave the upkeep of your garage door to the professionals in our team and make this one less thing you need to worry about.
Count on our team for:

Torsion Spring Repair

New Opener Remote Controls

Extension Spring Adjustment

Garage Door Receiver Repair