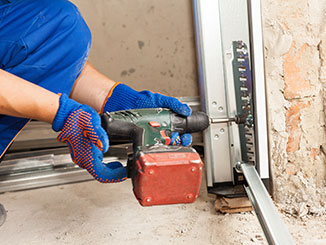 Each part of your garage door is there for a reason. From the rollers to the cables to the springs, every single component plays a vital part in keeping your door working smoothly from one day to the next. Problems with any one part can be dangerous; as soon as one fails, it can compromise the safety of the entire garage door. Our team provides a full range of repair services that covers each and every component, so no matter what the problem is, we're ready to help.
When Rollers Go Wrong
An important part of the door that often gets overlooked is the rollers. These components have to move smoothly along their rails each time the door cycles. Any friction can make the opener work harder, and help to increase wear and tear dramatically on the door system. Even the smallest dent can be enough to stop your rollers moving smoothly, so it's essential to watch out for any signs of damage. If your rollers are worn or damaged, our team will be able to quickly swap them out for new units.
Opener Drive Issues
If one component is the 'heart' of the garage door, it's the opener. This unit is what actually drives the automatic movement of the door, and the powerful motor is responsible for transmitting energy through the drive belt or chain. Over time, this component can become damaged; even the smallest dent can make the opener's job much harder. Luckily, our team stocks a wide range of replacement belts and chains from all the major manufacturers, and will be able to fit a new one for you.
Dented And Damaged Door Panels
Damaged door panels don't just look bad, they can be a security risk, too. By providing a potential purchase point for a burglar's crowbar they can compromise the integrity of your home's safety systems. Our team can remove dents and dings from your door. For more severe damage, and for plastic doors, it may be necessary to replace the panel - we work with all the leading brands, and can supply the perfect match.
Get In Touch Today
Our team can handle any job, whether it's an urgent repair or some regular maintenance work. Contact Garage Door Repair Duncanville today to set up an appointment.
Looking for more? We also offer:

Garage Door Opener Maintenance

Door Opener Troubleshooting Services

Emergency Broken Spring Replacement

Broken Garage Door Track Repair