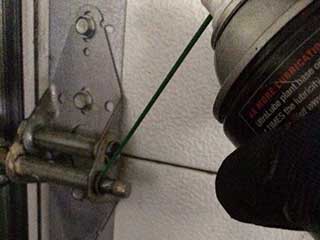 Although garage doors are the largest moving part of any home, most people pay little to no attention to them until something goes wrong. Here's what every homeowner should know (and do) in order to avoid premature failing of its components.
Keep the System Clean

Dirt, pet fur and dry leaves regularly get picked up by rollers and eventually start hindering their movement. When a roller starts to drag itself instead of rolling along the track, it starts producing a terrible noise while damaging itself at the same time. You can prevent that by removing any debris from the tracks with a paintbrush, broom or vacuum cleaner. Other components that can benefit from cleaning are hinges, the motor housing (both inside and around it), the lock mechanism and chain.

Adequate Lubrication

You should apply lubricant wherever there is metal on metal contact for two reasons: to keep the components from wearing down too fast and to reduce the noise. Spray the lubricant on metal rollers and hinges, all the moving parts of the opener (these may include, depending on the model: chain, pulleys and the rail), garage door lock and keyhole. And last, but not the least, lubricate both springs. Don't forget to wipe off any dripping product and operate the door a couple of times to make sure it's evenly spread out.

Test the Door

First, disconnect the opener and try to lift the door by hand. If it's well-balanced, it should go up easily and stay in the raised position without your assistance. Proceed only if your door is well balanced! Reconnect the opener and place a 2-by-4 inch block of wood flat in center of doorway - the door should reverse as soon as it comes in contact with it. Finish off by testing the photo sensors. Start by carefully cleaning them with a cloth and making sure they are properly aligned. Then, while the door is closing, break the beam between the sensors by waving a broom or a similar object and see whether the door goes back up.
If you notice anything unusual or simply don't feel up to the task, contact our team and schedule a visit.