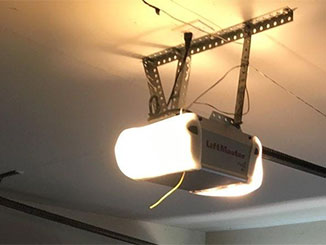 After more than a decade of working with garage door systems of all types, we've learned a lot about the different problems their different parts can develop. The automatic opener, in particular, is one of our key focus points. From faulty circuit boards to broken drive gears and torn belts or damaged chains, our technicians can quickly find and fix any issue that you're experiencing. We work with all the leading brands and we can also install a new model for you that will add safety and security to your garage, and subsequently, your home.
Regular Opener Maintenance Is Essential
Problems with your door's motor unit can often prevent it from being safe to use. In order to reduce the likelihood and severity of problems, we always recommend scheduling regular maintenance appointments with our team. We'll check for signs of wear on the drive gear and chain, ensure that all the moving parts are clean and properly lubricated, and adjust the safety sensors if necessary. Your opener plays an important part in keeping your garage safe and secure, and regular maintenance ensures it's always operating properly.
Providing Expert Opener Installation
These units have improved significantly in recent years, offering many fantastic features such as WiFi connectivity, improved security and faster, quieter operation. There are plenty of reasons to upgrade to a new model, and we're happy to help you pick out a new unit that fits your needs. Our team will ensure you get an opener that's the right size and strength for your garage, and we'll be happy to guide you through the many options available to you.
Helping When Things Go Wrong
Any complex system will develop faults over time, and an automatic garage door opener is no different. Because it consists of so many interconnected components, both mechanical and electrical, an opener can be a difficult machine to repair. However, thanks to the expertise of our team, we're confident that we can quickly provide a solution to any malfunction. Our technicians always brings replacement parts to every job, so you won't be kept waiting - we'll get your door working again as quickly as possible.
Contact Our Team For Anything
If you have a malfunctioning opener, don't hesitate to get in touch with us. If you're looking to get a new unit installed, we'll be happy to help you with that as well. Our experts at Garage Door Repair Duncanville are always ready to help. Contact us today.
In addition, we offer:

Part Replacement & Repair

Belt Drive Opener Installation

Oil Tempered Torsion Springs

24 Hour Garage Door Service